2021-11-16
Opportunities and challenges coexist. Zhou Guanyu will become the first F1 driver in China!
chinanews.com client Beijing, November 16 (Wang Hao) on the 16th Beijing time, F1 official blog announced that Chinese driver Zhou Guanyu joined alpha Romeo team. If all goes well, Zhou Guanyu will become the first Chinese driver to participate in the F1 race. This will be an important milestone for Chinese motor racing
Zhou Guanyu said: "I feel ready and ready to deal with the great challenge of formula one, the tip of the racing pyramid, and look forward to working side by side with a world-class driver like botas. For this reason, I would like to thank Alfa Romeo Orlen for this opportunity and trust in me.
Chinese audiences are not unfamiliar with F1, which has turned around in China It has been broadcast for many years. Since F1 landed in China in 2004, the Shanghai Grand Prix has attracted countless attention every year.
F1 is also one of the most influential events in the world. In February this year, F1 officially released the viewing data of 2020 season. The average number of viewers of each F1 game in 2020 season was 87.4 million, and the cumulative number of viewers in the whole year reached 1.5 billion.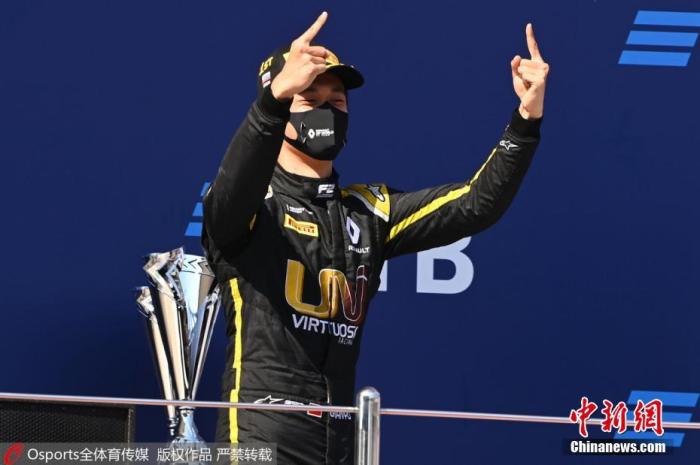 in such a high standard race, no Chinese driver has ever appeared in the race before. Before Zhou Guanyu, the closest Chinese driver to the F1 race was ma Qinghua.
in November 2012, Ma Qinghua signed a contract with Spain HRT team, which announced that he would participate in the 2013 race However, since then, HRT team has not paid the 2013 F1 entry fee, resulting in Ma Qinghua's failure to participate in the race, which is the "F1 dream" of Chinese drivers It's broken again.
however, next season, this history will be rewritten from the moment when Zhou Guanyu plays F1 on behalf of alpha Romeo team.
compared with those countries with mature competition system and a large number of manufacturers, the development level of China's racing sports is not high. This time, Zhou Guanyu officially enters F1. For himself and the whole Chinese racing sports, Both have great significance.
at the beginning of July this year, Zhou Guanyu participated in the practice race of F1 Austria. Chinese drivers showed up again at the F1 weekend, which excited many fans. Before that, Zhou Guanyu had made a lot of history in his racing career.
in the second round sprint of F2 Russia in September last year, Zhou Guanyu won the first F2 sub Race Championship in his career. He also became the first Chinese driver to win the championship in F2 history.
in this season's F2 race, Zhou Guanyu currently ranks second in the championship, won three championships, and has climbed the podium many times. Overall, Zhou Guanyu is really the best driver at present This is the Chinese driver entering F1.
the huge Chinese market behind Zhou Guanyu has always been considered a good condition for him to enter F1. In 2013, Ma Qinghua appeared in the practice race of Shanghai Grand Prix; in 2019, Zhou Guanyu drove during the Shanghai Grand Prix Driving an F1 car for a road show on the street… These have attracted a lot of attention.
Zhou Guanyu became an official F1 driver this time, which is a win-win situation for the team, drivers, fans and F1 officials. 19 years ago, Yao Ming was the "champion" Since he landed in Houston, the NBA has expanded rapidly in the Chinese market. This time, if Zhou Guanyu joins F1, car fans are looking forward to the same effect.
on the other hand, after Yao Ming, only Yi Jianlian can gain a firm foothold in the NBA for a short time. It can be seen that even in such a highly commercialized event, strength is still a priority. Zhou Guanyu can get the official driver seat due to commercial factors, but his strength is the most important criterion.
objectively speaking, it is difficult for Zhou Guanyu to stand on the podium as frequently as in the F2 competition in his first F1 season
at the beginning of September this year, F1 officially announced that botas will play on behalf of alpha Romeo team next season. Botas has played for the champion team Mercedes for the previous five seasons, won multiple sub station titles and climbed the podium dozens of times. He is a driver with rich experience.
in the new season, Zhou Guanyu is the most direct "competitor" It's botas. This task is not simple for him who is a beginner.
and Zhou Guanyu himself said: "Next year's goal will be to learn and improve myself as much as possible and as soon as possible. I will become the first Chinese driver to participate in Formula One racing in history, which is a breakthrough for Chinese racing. I know many people have high expectations for me. I will continue to take this as a driving force, work harder to make myself better and strive for more results."
in recent years, the performance of F1 car has a great impact on the race results, so Zhou Guanyu's performance in the first F1 season depends in part on the car R & D of alpha Romeo.
as of the Sao Paulo Grand Prix this season, the alpha Romeo car team has only 11 points, ranking second to last among all teams, behind William, who is third to last Ames team scored 12 points. Overall, the performance of alpha Romeo racing car this season is at the downstream level of F1.
previously, it was rumored that alpha Romeo would switch to Mercedes engine next season, but the news was not officially confirmed. In short, it is difficult for Zhou Guanyu to hit the podium in his first F1 season. However, it is a more realistic task to ensure the completion rate and learn from experienced team friends without much achievement pressure.
we look forward to Zhou Guanyu's F1 debut next spring The race track. The accelerator he stepped on when he started promoted not only a racing car, but also the development of Chinese racing sports.
Chinese people can also drive F1 racing well! (end)